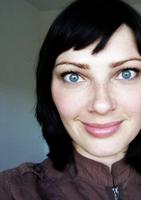 And this is me, Kasia from Poland. I still can't believe I have been invited to take part in this fabulous project!

I'm into interior decoration and design. I'm addicted to the adrenaline kick I get in thrift stores and flea markets. I love finding treasures among piles of dusty, rusty garbage. Which doesn't mean I'm not selective. In fact, I rarely buy everything I like. I only buy what I l o v e. If I spend several hours at a flea market and come back home with just one coffee cup, I'm perfectly satisfied.


I'll be happy to share my finds, renovation projects and inspiration with you.